27 May 2023
Why You Need to Use Food-Grade Seals in the Food & Beverage Industry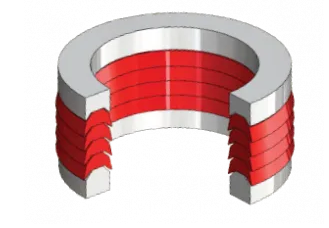 One of the best methods of preventing this is by taking advantage of the highest level of food-grade seals. This, in conjunction with advanced quality control throughout the whole manufacturing process, should – in theory – lead to the smooth processing of ingredients into the finished product.
Some of these are:
Extreme operating conditions (high and low temperatures)
Exposure to abrasive and corrosive media
The use of types of acids, oils, fats and other ingredients
Frequent washdowns and chemical cleaning products
Production environments are prone to contamination
The need to comply with multiple food & beverage legislation and regulations
The overarching requirement is that of health and hygiene. As well as damaging product recalls, companies must ensure the effectiveness and longevity of their production line.
Food & beverage-grade engineered polymer seals are key in meeting these multiple demands.
Not only must these seals provide outstanding sealing properties wherever they connect equipment along the manufacturing line, but they must also conform to strict standards as they degrade over time. And therein lies the core reasons why food-grade seals must be fit for purpose and perfectly suited for the application.
The beauty of Chesterton Customseal is the provision of both off-the-shelf and customised solutions. These combine innovative technologies that increase sealing lifespan and decrease flush rates, water consumption and energy needs.
The Key Attributes of Chesterton Customseal Food-Grade Seals
The basic principles around which all of Chesterton Customseal's food-grade seals are built include:
Having a clean, even surface
They sit flush with the equipment's components
They have centred joints without the over or under-compression of the seal
No dead spaces through which the seal could protrude, either during temperature fluctuations within the manufacturing process or when subjected to washdowns and harsh cleaning media
The range of food-grade seals has been designed to solve many challenging situations. Using the most advanced materials is key to the best-performing seal solutions. Polyurethanes (elastomers, metal detectable, fluoroplastics) and engineered plastics are just some options to ensure strict compliance with legislation, top-end performance and a long lifespan.
R27K Rod Seal Pressure-sensitive, Stacked Set Sealing
The importance of using the highest quality food-grade seal appropriate for the application can't be overstated. The food & beverage market is one of the planet's most saturated and competitive manufacturing processes. While safety and hygiene obviously sit at the very top of the list regarding sealing properties, organisations must also drive down costs to remain competitive. Seals might appear to be only a small element of this, but getting it wrong can have massive negative implications.
Chesterton's expertise in food-grade seals for the industry is second-to-none. From a huge range of patented factory options to creating bespoke seals to improve production, increase longevity and ensure compliance with global requirements, we lead the way in innovation and design.
Read more about our sealing solutions for the food & beverage industry or get in touch today for a no-obligation conversation.