11 Sep 2023
APPEX Announcment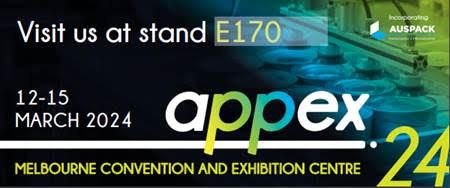 Our first appearance at a trade show in Australia since 2017
FPE is thrilled to announce that we are attending APPEX 2024 from 12-15 March at the Melbourne Convention and Exhibition Centre. Australasia's Processing and Packaging Expo represents all sectors of the food manufacturing industry, from materials and packaging to food processing and industry services.
At our first appearance at a trade show since 2017, FPE will showcase equipment from multiple brands, including Syspal, Grasselli, Elpress, Eagle PI and Mepaco.
Attendees will be able to view new machinery and equipment as well as trusted systems for processing poultry and meat, fish and seafood, plant-based food, baked goods, dairy and convenience food. These innovative systems are guaranteed to ensure efficient processes and continual production.
General Manager Tania Carey says APPEX is perfect timing for FPE. "The food processing industry is finally reuniting after the disruptions of COVID-19 and FPE has exciting new products to showcase. We believe in win-win, we must win and to do that our customers must win. This is how we all do good business. APPEX is an opportunity to celebrate our success and to experience the benefits of industry collaboration."
Visit FPE at our largest booth ever, number E170, located between the APPEX Hub and the Restaurant, to explore our new equipment. Speak with the FPE team and discover how working with FPE can take your food processing operations to the next level in 2024.