Airwave PaperWave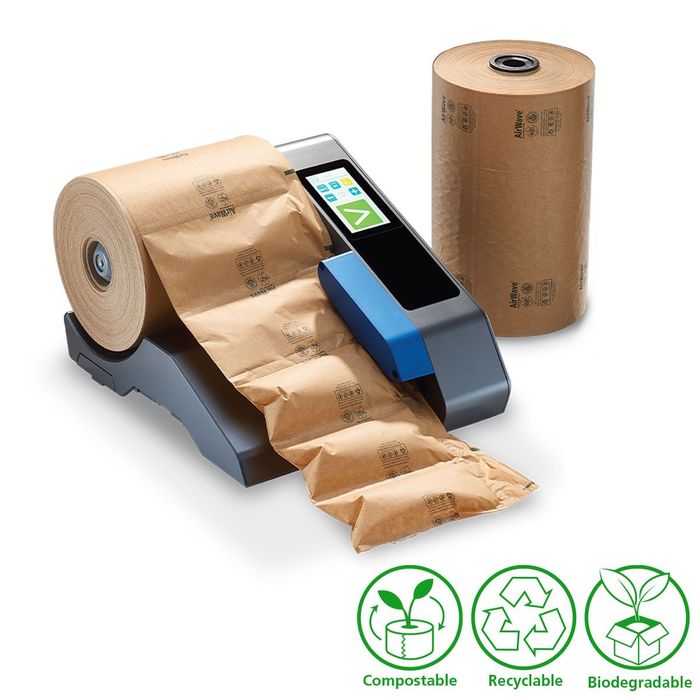 PaperWave®-Bio has a very thin seal layer made of corn starch based Bio-Film, which has been confirmed not to affect the recyclability of the paper.
The product bears the RESY mark as well as the sorting-aid-symbol according to DIN 6120. This makes it very easy for the consumer to decide on the correct recycling bin at disposal. The material is compostable and even degrades in Marine environment when mistakenly ending in water.
With today's repulping technology, the paper and sealant layer will be separated during the recycling process.This enables the new AirWave PaperWave®-Bio air cushion film to be recycled with the normal wastepaper or the biocompostable waste.
Categories
Packaging
Primary Packaging
Packaging Machinery
Complete Automation Systems
Conveyors
Cushion Packaging/Void Filling Machines
Heat Sealing Machines
Pallet Shrink Wrapping Machines
Pallet Strapping Machines
Pallet Stretch Wrapping Machines
Pallet Weighing Machines
Robots
Strapping Machines
Stretch Wapping Machines
Void Filling Machines
Wrapping Machines
Packaging Materials and Means
Biodegradable / Compostable Packaging
Recycled Packaging
Recyclable Packaging
Bioplastic
Cardboard
Carton
Composite Material
Corrugated Board
Other Packagings
Paper