Automatic In-Line Tray Sealing Machines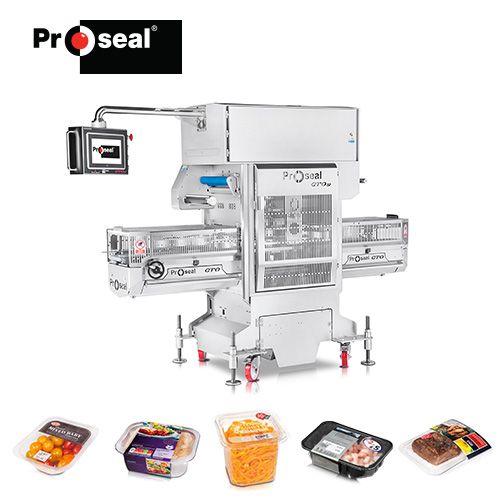 JBT Proseal GT0e Tray Sealing Machine
An automatic, medium-capacity, in-line tray sealing system with full vacuum facility designed to cut labour costs.
At the core of the 'e' design is its flexibility to perform any style of heat seal to a pre-formed tray, be that atmospheric, MAP, VMAP, Skin,Skin Plus, or Skin Deep. Each of these options can be added now or at a later date, or indeed removed as necessary. This flexibility provides the user with the assurance that whatever the latest packaging trend might be, they have equipment suitably geared for the future.
Capable of producing up to 36 Vacuum/Gas packs per minute with a 3 imression tool, the GT0e system is packed with user-friendly benefits including our unique ProMotion modular conveyor system.
Designed to accept randomly spaced trays from any conveyor and can be fully integrated with other line equipment.
Categories
Bakers Equipment
Canning Equipment
Fill And Seal Machines
Filling Machines
Form Fill And Seal Machines
Gas Flushing Equipment
Inspection Machines
Lidding Machines
Metal Detecting Machines
Tray Form Fill And Seal Machines
Tray Loaders
Tray Sealing
Vacuum Packaging Machines
Bakery Equipment
Coating Machines
Cookers
Dairy Processing Equipment
Filtration Machines
Fish Processing Machines
Food Processing Machines
Fruit Processing Machines
Frying Machines
Homogenising Machines
Meat Processing Machines for Emulsifiers
Metal Detection Equipment
Pasteurisers
Pharmaceutical Processing Machines
Poultry Processing Machines
Refrigeration Equipment
Salad Preparation
Sausage Filling Machines
Slicers And Dicers
Smoking And Cooking Systems
Vegetable Processing Machines
Washing Machines
Waste Treatment
Xray Inspection Systems