Gantry Bin Tipper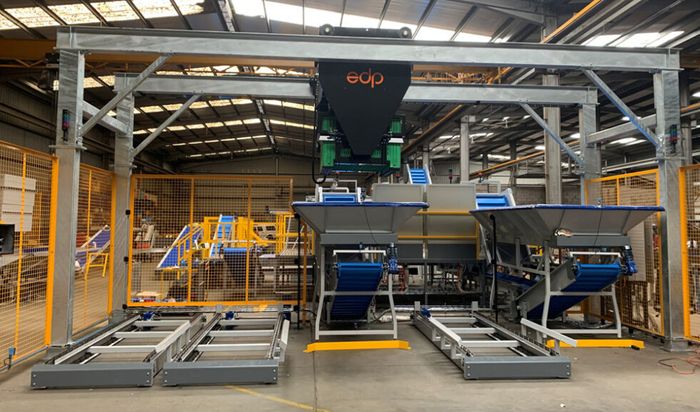 The latest bulk bin handling equipment is now available from edp Australia, manufactured in our Mooroopna factory.
Our new Gantry bin tipper feeding multiple packaging lines with different product types, with fully automatic flow control depending on pack out rates.
One unit is delivering product to two feeding hoppers while the other is supplying product to three feeding hoppers. The system features multiple full bin stack feeding and empty bin take away. Extremely gentle of the product with virtually no drop to the fruit, able to feed multiple feed hoppers, wet or dry with different types of products, (multiple full bin stacks).
Categories
Components
Machine Parts, Components, Accessories
Primary Packaging
Packaging Machinery
Bag Filling
Case Erecting Machines (Corrugated Board)
Checkweighers
Cleaning Machines
Conveyors
Cooling Machines
Crate Packing Equipment
Depalletisers
Emptying Machines
End Of Line Bagging Systems
Filling Machines
Form Fill And Seal Machines
Handling Machinery
Inspection Machines
Pallet Stacking Machines
Pallet Transfer Machines
Palletising Machines
Pick And Place Machines
Second Hand Equipment
Thermal Transfer Printing
Weighing Machines
Welding
Recyclable Packaging
Plastic (Pallets And Films)
Inspection Systems
Bespoke Machinery or Machine Development
Cleaning Machines
Emptying Machines
Filling Machines
Inspection Machines
Bulk Handling Equipment
Bulk Storage Equipment
Complete Turnkey Processing Plant or Lines
Elevators
Fruit Processing Machines
Hopper Loaders
Pipework
Vegetable Processing Machines
Consultancy Services
Engineering Design