Proseal Semi-Automatic Tray Sealing Machines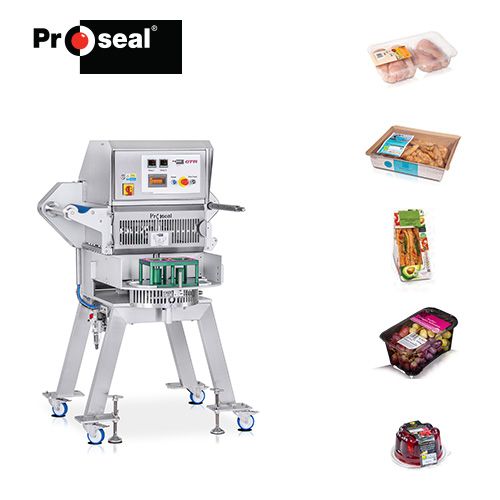 JBT PROSEAL GTR Tray Sealing Machine
Semi-automatic, two-station, rotary-table, tray sealing machine.
Capable of sealing up to 30 'Atomospheric' packs per minute with a 2-impression tool, the semi-automatic, ultra-reliable GTR machine is the workhorse of numerous industry segments of food production around the world and has become the benchmark for quality semi-automatic tray sealing equipment.
The GTR's user friendly design includes an integrated HMI and quick-release tooling, which allows the user to change from one tray size to another in less than two minutes. The machine itself is fully portable with an automatic film-feed and is available with optional 'free-flow' gas flush, Modified Atmosphere Packaging (MAP) to enable extended shelf life.
Categories
Bakers Equipment
Canning Equipment
Fill And Seal Machines
Filling Machines
Form Fill And Seal Machines
Gas Flushing Equipment
Inspection Machines
Lidding Machines
Metal Detecting Machines
Tray Form Fill And Seal Machines
Tray Loaders
Tray Sealing
Vacuum Packaging Machines
Bakery Equipment
Coating Machines
Cookers
Dairy Processing Equipment
Filtration Machines
Fish Processing Machines
Food Processing Machines
Fruit Processing Machines
Frying Machines
Homogenising Machines
Meat Processing Machines for Emulsifiers
Metal Detection Equipment
Pasteurisers
Pharmaceutical Processing Machines
Poultry Processing Machines
Refrigeration Equipment
Salad Preparation
Sausage Filling Machines
Slicers And Dicers
Smoking And Cooking Systems
Vegetable Processing Machines
Washing Machines
Waste Treatment
Xray Inspection Systems