16 Nov 2023
simPAL Robotic Palletiser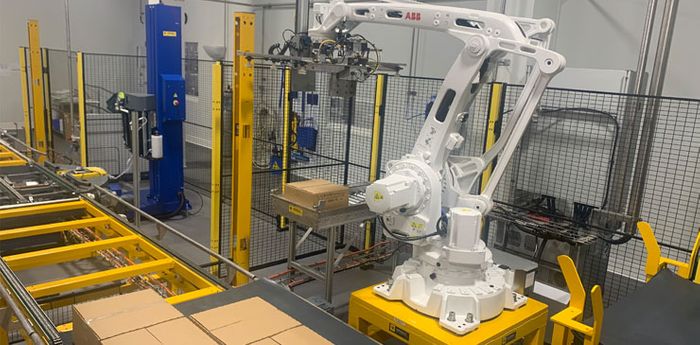 The genius of simPAL®
At its core, simPAL® is a robotic palletiser. However the elegance of simPAL is the combination of smart software and hardware to create a highly flexible, modular robotic palletising solution. The success of our system revolves around the use of pre-engineered and pre-wired base Tiles that can be combined in different configurations. As production needs change, the same system can be reconfigured or extended.
simPAL® – Modular Palletising
10 different pre-wired modules - connectable and configurable for different layouts
Integrated, proprietary software with an Automatic Pallet Generator
HMI touchscreen
IIOT connected
Grippers to suit many product types
Robot capacities from 110kg to 450kg
Integrated Palletising Systems
Our smart thinking solves the complexities of synchronising product picking, pallet handling and robot operations which is crucial to ensuring your palletiser achieves its maximum return on investment and a good reason to choose Australis.
Categories
Packaging Machinery
Assembly Machines For Component Parts
Bespoke Machinery Or Machine Development
Box Making Machines
Cartoning Machines
Case Making Machines
Complete Automation Systems
Conveyors
Cooling Machines
Counting Machines
Crate Packing Equipment
Depalletisers
Depositors
End Of Line Bagging Systems
Fill And Seal Machines
Filling Machines
Guards (Safety)
Handling Machinery
Inspection Machines
Pallet Inverting Machines
Pallet Lifter
Pallet Stacking Machines
Pallet Stretch Wrapping Machines
Pallet Transfer Machines
Palletising Machines
Pick And Place Machines
Robots
Stretch Wapping Machines
Tablet Counting Machines
Tray Erectors
Tray Stackers
Vertical Elevators
Vision Systems
Vision Systems Integrators
Wrapping Machines
Inspection Systems
Bespoke Machinery or Machine Development
Canning Equipment
Filling Machines
Bakery Equipment
Chemical Processing Machines
Chocolate Processing Machines
Control & Instrumentation Conveyors
Cosmetic Processing Machines
Dairy Processing Equipment
Depositing Machines
Elevators
Ethnic Food Processing Machines
Explosion Protection Equipment
Fish Processing Machines
Food Processing Machines
Fruit Processing Machines
Personal Care Products
Pharmaceutical Processing Machines
Poultry Processing Machines
Process Control Systems
Stainless Steel Cabinets
Toiletry Processing Machines
Vegetable Processing Machines