Water Activated Tape Systems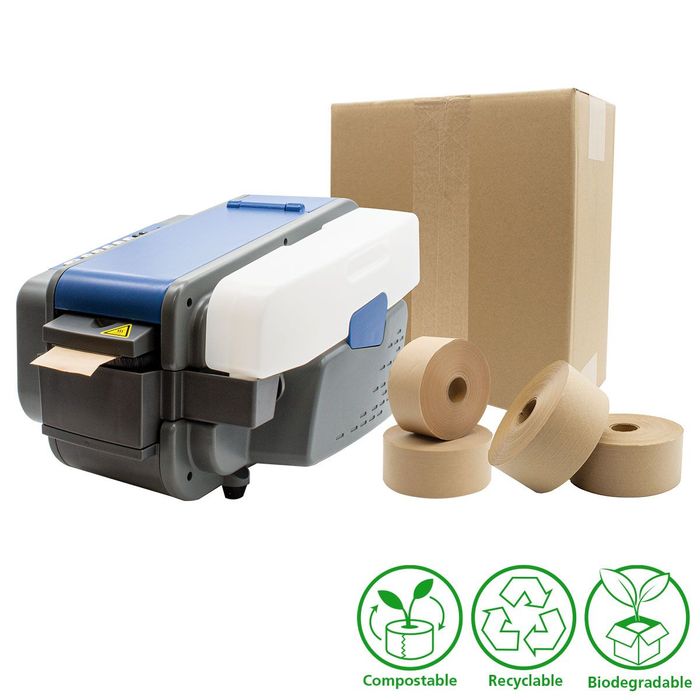 At TigerPak Packaging, we're proud to offer environmentally friendly solutions for our clients such as our water activated tape (WAT) made from kraft paper with a water-activated starch-based adhesive. Our water activated packaging tape is the perfect solution for companies looking to reduce their carbon footprint without compromising on quality or functionality. Made from renewable resources, our water activated kraft paper tape is fully recyclable, making it suitable for eco-conscious businesses.
As trusted water activated tape manufacturers, we offer our water activated kraft tape in two options: reinforced and non-reinforced. The reinforced water activated paper tape is designed for heavier packages and provides extra strength and durability, while the non-reinforced option is ideal for lighter packages.
Water Activated Tape Dispenser: With pre-set length options, our water activated tape dispenser allows for quick and easy operation for a more efficient packaging process.
Categories
Packaging
Primary Packaging
Packaging Machinery
Complete Automation Systems
Conveyors
Cushion Packaging/Void Filling Machines
Heat Sealing Machines
Pallet Shrink Wrapping Machines
Pallet Strapping Machines
Pallet Stretch Wrapping Machines
Pallet Weighing Machines
Robots
Strapping Machines
Stretch Wapping Machines
Void Filling Machines
Wrapping Machines
Packaging Materials and Means
Biodegradable / Compostable Packaging
Recycled Packaging
Recyclable Packaging
Bioplastic
Cardboard
Carton
Composite Material
Corrugated Board
Other Packagings
Paper